Tuesday, September 30th, 2008
The film is produced by AnimeDiet, and includes the world famous blogging couple of J.P. and Hinano, together with that traitor uragirimono DS. Also rumored to appear are Omo and even Moy (have you ever wondered just how he gets the masters for his raws?), but I've not downloaded far enough yet to confirm their presense.
UPDATE: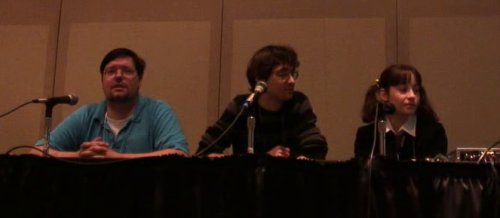 Totali said that there are a lot of entities who grab whatever is posted to Share or Winnie. Well, for some reason I'm not familiar with the lot, but Moyism had Manabi, so….
UPDATE: Nobody has a sense of humor these days.
Also, I forgot to compliment Hinano's Maka costume. Most of the time you can only see the necktie, but it's exposed at the very end of this extra long video. Nicely done, IMHO. Maybe needs bigger buttons?