July 26th, 2009 by
Author
Right off the bat, I'm going to disagree with the esteemed Aroduc about GA: Geijutsuka Art Design Class. He proclaimed:
If you were expecting this to be some kind of slice of life show similar to Sketchbook or Hidamari, you're out of luck. It's sort of like the hyperactive and ADD child of Pani Poni Dash, Azumanga, the Muppet Babies, and perhaps a cocker spaniel.
I don't only disagree because I hate PPD passionately, and GA didn't give me an excuse to hate it. But I do think it's similar to Hidamari and Sketchbook, and belongs into the same generation with them. I call the long-haired girl who teaches everyone "Kuga". Heck, Kuga even reminds me of Mei Etoh. So yeah, it's totally the same thing. Jokes may be better, but characters are not as engaging as Yunocci, so it all balances out.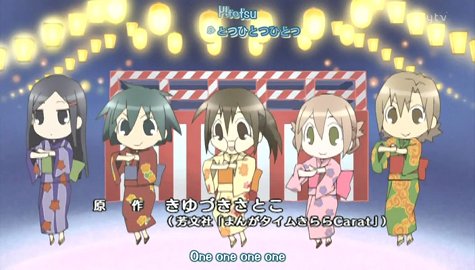 BTW, dancing chibis.