Friday, August 21st, 2009
I look down on people "twittering" or "liveblogging" their anime runs because it is virtually guaranteed to be a weak substitute for humor (Jason, I'm looking at you). In fact I never saw a dump with anything interesting, not even once. Yet, in an e-mail discussion yesterday Zyl in essense suggested such infodump as a valid blogging form, especially if it has screencaps (he opposed it to the art of capturing one screencap that expresses the essense of the whole show; it is often a difficult excercise and I think the only time I succeeded with it was To Heart).
Since I rewatched Shingu for the 5th time, this may be a good time to try The Zyl Style. Poor server! The chronological order is kept, spoilers are absent to minimal.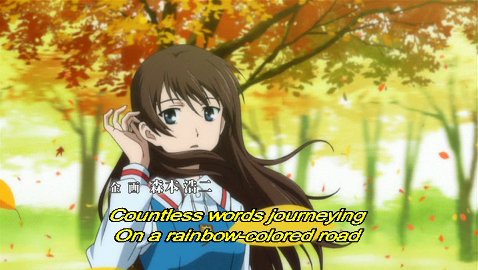 This is how far I reached into true tears before I decided that the required emotional investment was too great, ejected the disc and loaded Shingu v.1.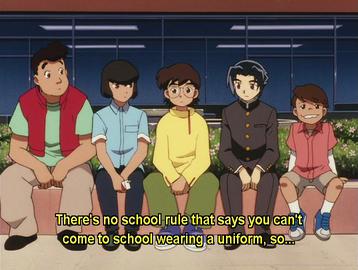 The obligatory intro: it's the future, baby.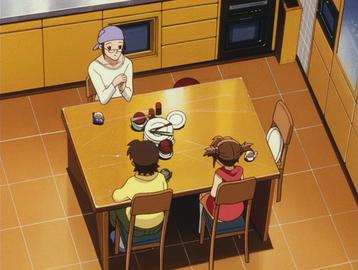 Shingu does not have "Parential Abandonment" trope (even it looks like it at first). Go Tatsuo Sato!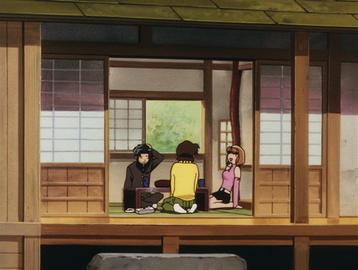 Hajime slays the party with his fake naivite.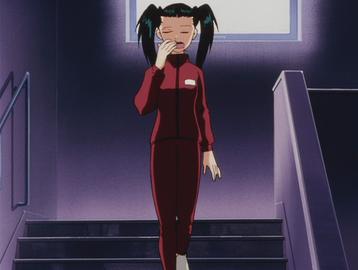 Yawning Nayuta is a big clue, one of many thrown around, but when I watched for the first time, I ignored all this stuff. Why think? It's anime, right?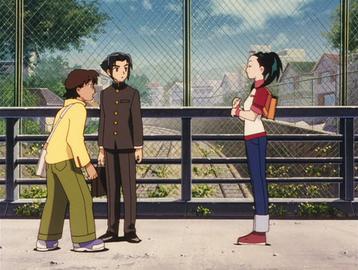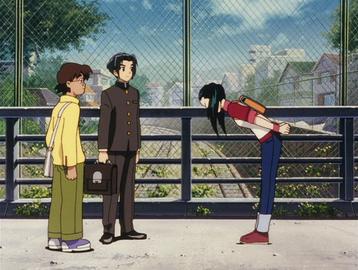 The two caps above do not quite work in a gif since the color changes. Blasted celluloid film technology. Check out how all three characters move.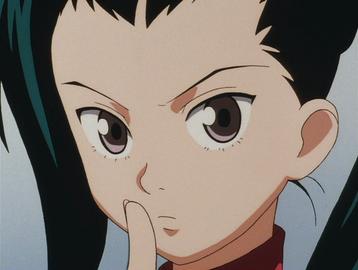 "Okujou ni!"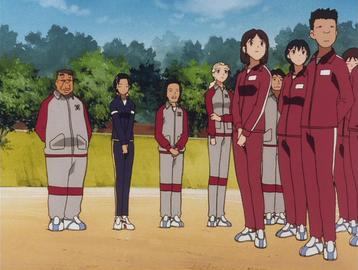 Fourth from the left is the stereotypical English teacher, which may be fine for an anime as old as Shingu, but it's about time they used a big black dude for it.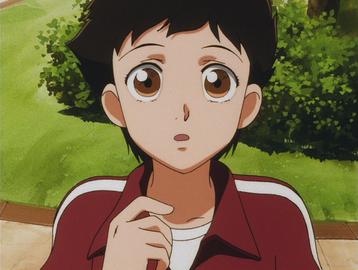 The note for this was "03 Harumi is not moe, just awesome". I didn't mean to blog this and used the m-word.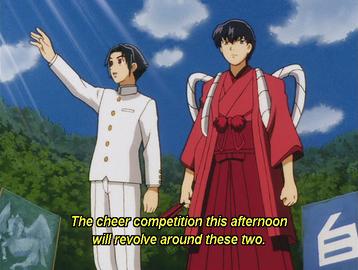 Oh, god.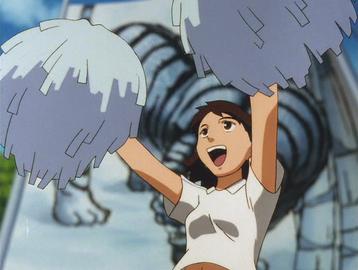 A one-shot character. So good. BTW, animated.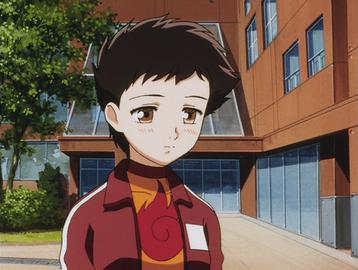 Harumi again. For those who's seen it, I find the logic of the scene confusing. What is the problem here?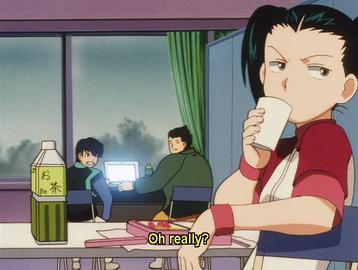 Nayuta and Romi Pak's voicework. At first pass, her diatribes irritated me a bit, but later I warmed up to them.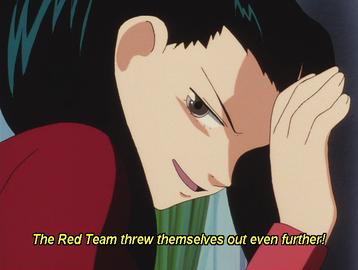 It's not a pantheon-class facial distortion, but it's good, not overdone.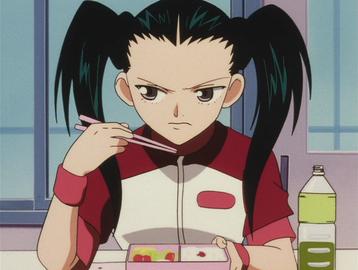 OK, this one is not so good, not like most of them. Off-model a bit, I think.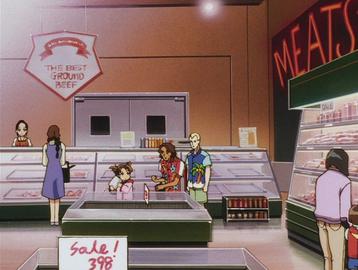 I think I blogged this before, but one kg of meat for what, seven people? Japan is tough, even in the future.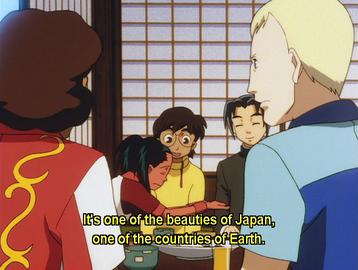 Caption.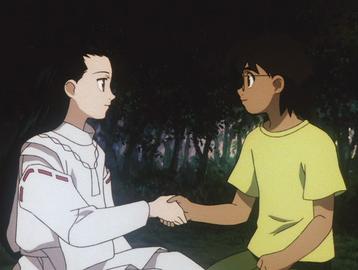 Oh hell yes. Hell, yes.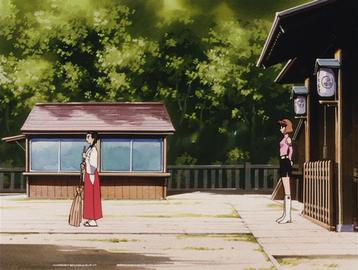 Nayuta-no-miko-san.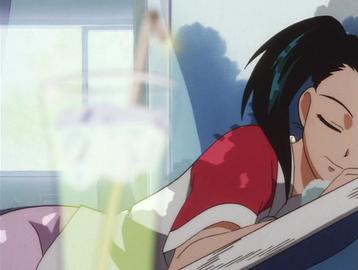 The glass, can you see it?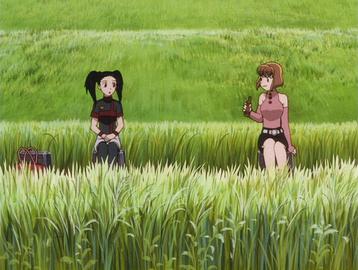 Odd coloring here.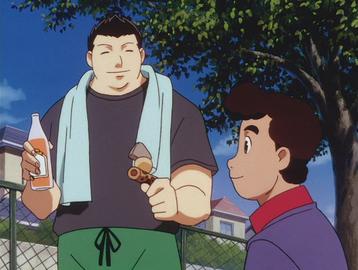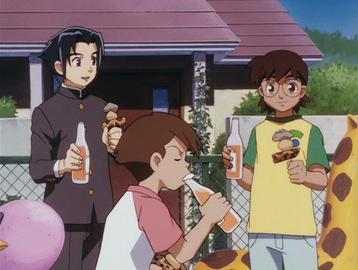 The food (two shots).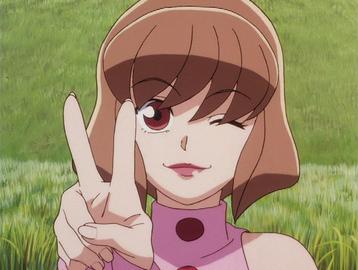 I really turned around on just about everything about Shingu, except Setsuna. Something about her demeanor irritates me immensely even now.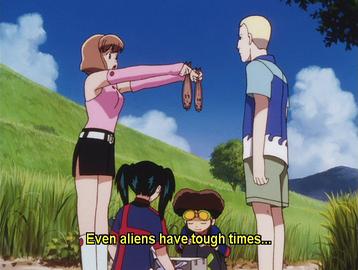 Well, some of it is not so bad, but still.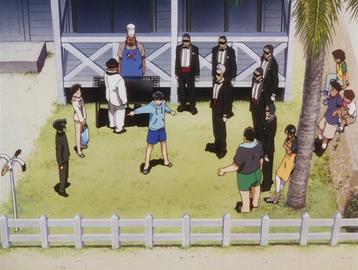 Gesturing.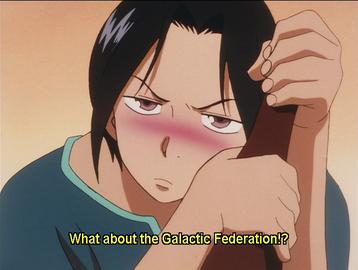 I think Isozaki is kinda cold. Pretty, yes, but remote.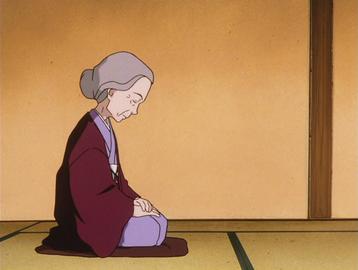 OK, now Momoe can make me a henchman any time. It's unclear to me just what she knew and when. For example, was she aware for Setsuna's identity (through Asougi)?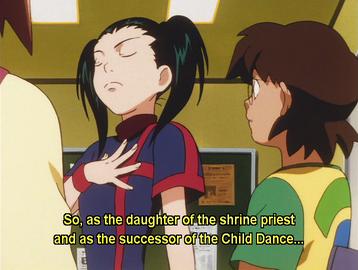 LOL.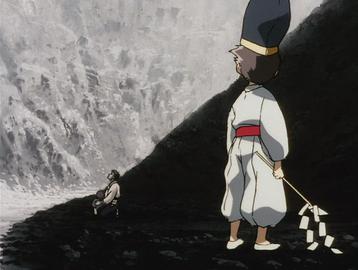 I bypassed capping this part before, so for completeness.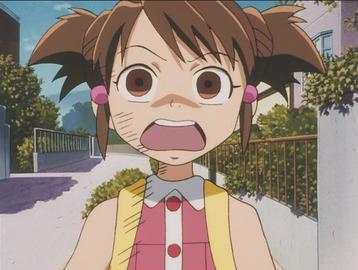 Futaba is withering, almost like Chiyo-chan who learned that Okinawa trip is cancelled.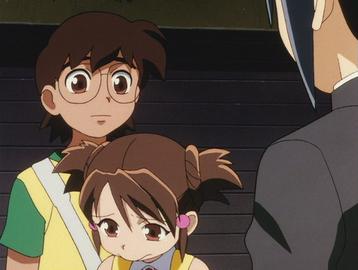 Ditto. BTW, voiced by Rie Kugimiya, and says things like "wara-wara" (in jest).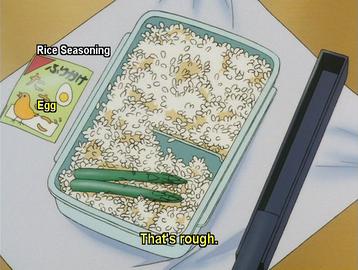 LOL.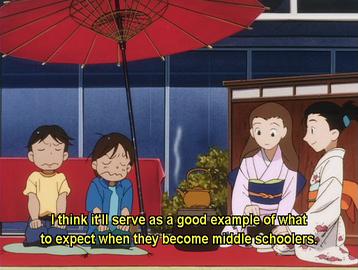 A throwaway shot on a moldy topic, but still good.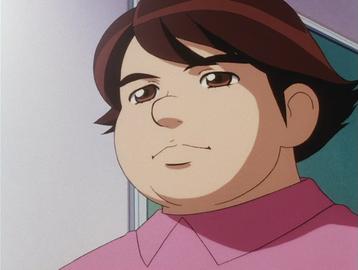 Shingu features a few awesome talk scenes. If I'm not mistaken the role of Judo club captain is played by Makoto Higo.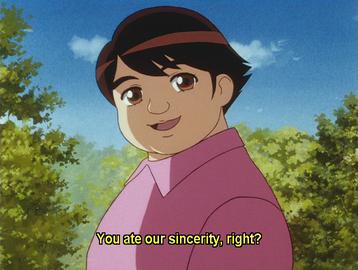 "Tabeta yo ne?"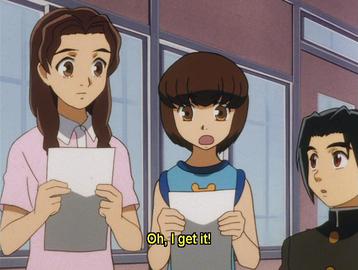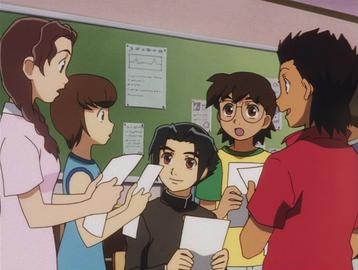 LOL, right?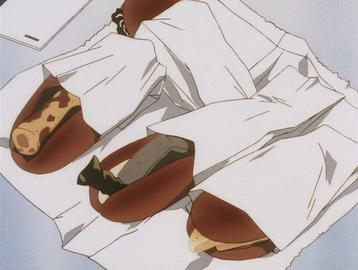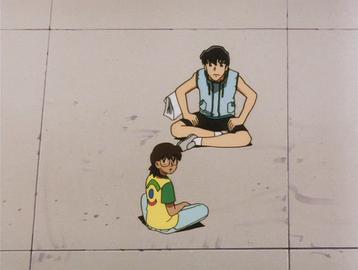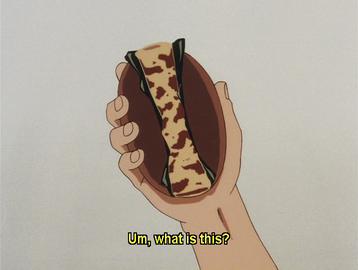 Hajime identifies it as "oden-pan". Later they talk about kelp and fish cake being in it.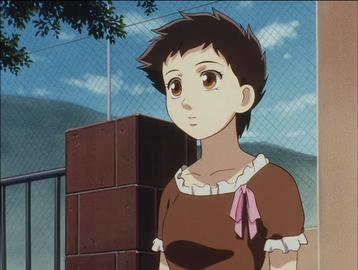 Can never have too much Harumi. BTW, she's the only character (with a great degree of precision) who changes her attire.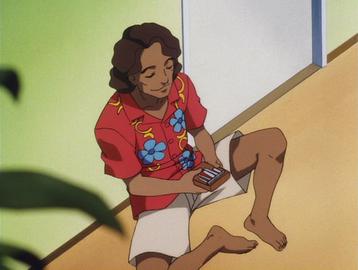 Weird musical instrument.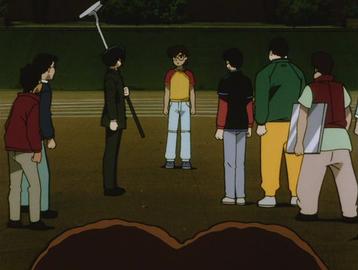 As the action heated up, capping stopped. Still, one tense moment. The object in front is Shun's head (duh).
All in all, 44 honest pictures, and heavy on the mystery food-like product. Steven's commenters did not mention "oden", and settled on "chikuwa".