Thursday, January 28th, 2010
I wasn't happy with Tentai Senshi Sunred when it aired, but I was made to watch it again at the club, and it makes a bit more sense now. The jokes are pretty funny, but more importantly, they do not wear out despite the ostensible repetition.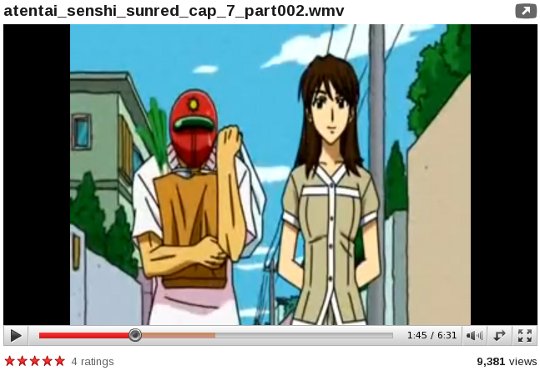 In addition, Kayoko is ridiculously hot, because she's so woman-like.
UPDATE, in which I agree with WAH (of all people!):
[] Another thing that makes Sunred funny is how deep it plunges its heroes and villains into the stereotypically mundane Japanese lifestyle. As such, making the characters pay for things in dollars, as well as citing American brands as opposed to Japanese ones robs the show of its cultural flavour. Sunred thrives on references to local and nationally known things.
Of course, raw is the way to go. But the screencap above should not be taken as an indication that I am in any way or shape capable of understanding Sanred raw. I was so immensely proud when I got the gist of the plot to catch Kayoko, between the rabbit and the dog dude, but that really is the limit. Go, ANBU! Make it accessible! Not that I personally would download it…
UPDATE: Price of Sunred's bike goes lower in every episode.