Saturday, August 21st, 2010
Don's very miscellaneous post reminded me about this wonderful exception to the "Funi only licenses garbage" rule. Unfortunately, stupid Funi haven't shipped DVDs, so streaming is the only option. IMHO anything on ANN is not recommended (their player and CDN work poorly too often). The choice of the new generation is Youtube. Naturally Funi being Funi made it as hard as possible: there is no way to find the show by browsing their titles, but a search brings it to episodes, and there's a playlist in "related". So yeah… Honestly I'm not surprised that numbers of views are in low hundreds.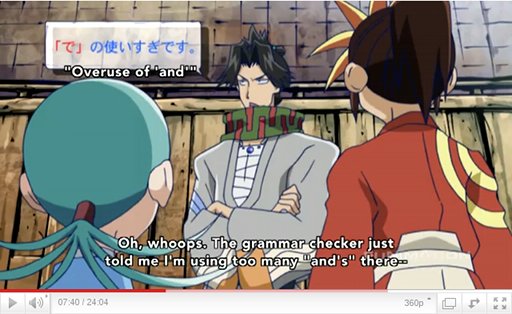 Strictly speaking, I opened Oh Edo Rocket before, but something didn't click. Also, it wasn't blogged, but I watched the final episode, so I know how it ends. But it was long ago, and my impression now is rather different. For example the character art does not bother me (O-Nui is rather cute, actually). Perhaps Sunred softened me up to the concept. I'm already 2 episodes in.
P.S. Speaking of the "overuse of -de", there's a small personal story to it. Back in Delta College, an exchange student helped out us a bit. We called him Kaneshiro-san. One of his lessons was to use the -de. Kaneshiro-san said: "We Japanese do not say: `Bla bla bla desu. Bla bla desu. Bla bla arimasu.' That does not flow well at all. Take that desu and convert it to -de: `Yak yak-de, yak yak-de, yak yak desu.' That flows much better!" But what do you know, Oh Edo Rocket teaches us not to overdose on this technique.