Friday, August 26th, 2011
It was a robust comedy episode that did not tell us much of anything new about the characters, but it will do. Better the humorous filler than dull one.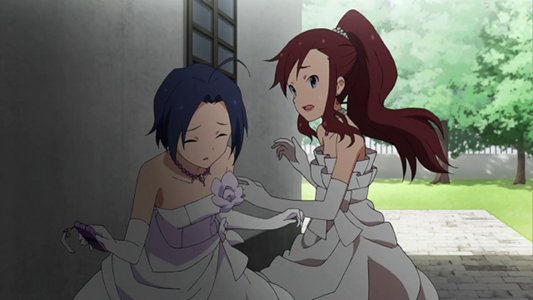 Sorry for the massive spoilers, but it's the only decent screencap that I took. There weren't any notes either!
P.S. P-san is annoyingly useless — again.
UPDATE: Zyl adds a couple of thoughts, as usual. First, this analysis:
Asuza had scored some points with me earlier on by drinking heavily but those points have been seriously depleted by her utter blandness in this episode. Her character quirks of getting lost easily and wanting to get married soon for the sake of getting married soon were well integrated into the episode's overall structure, setting/context and comedic elements but her lack of any sustained sense of urgency (except right at the end) had a negative knock-on effect on the pacing, leaving me irritated and frustrated.
I admit to being jealous, mostly watching with brain off. Also:
One big thing that's been missing in this series so far (other than Producer getting his act together) has been the presence of 765Pro's fans. We've heard before how Makoto's fanbase is largely made up of girls and that Ryuuguu Komachi has gained fans due to the Runaway Bride Asuza shoot but I would really like to see some of these fans. Or at least one fan letter (even Sae from Hidamari Sketch got one), email, forum posting. It just seems improbable that 765Pro management hasn't even discussed in more detail what the fan numbers, demographics and likes/dislikes have been like.
Since the fan letters were such an important instrument of Chihaya's idol training in her character CD [1], one would expect them to pop up sooner or later. Perhaps we are just not there yet.
[1] "Dear Chihaya-san, your long hair is so wonderful, but you don't seem to have any haircut (or shape to it), why is that?"