Thursday, September 29th, 2011
The big Live was big.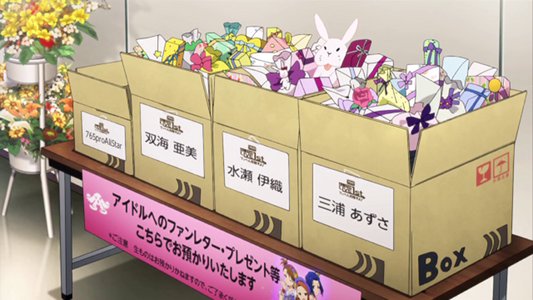 It is clearly visible that A-1 is trying their best. For example, the presents for each of the member of Ryuguu Komachi are distinct: Ami mostly got childish sweets, Iori received a few rabbits among the chocolates, and Azusa scored a few roses and flat parcels which may contain marriage proposals. And of course the dance number went on and on without end. Is the result satisfactory? For whom how, I suppose. I was astonished when the art style changed for a few seconds, as if J.C. Staff came to help. What was that about?!
When Miki fell into P-san arms, I remembered Evirus' secret unlinkable message from a recent post. Back then I put him for kidding. Now it's more like "HE KNEW". Still, I just plainly cannot believe that A-1 would dare, even if it's only the anime continuity etc. etc.