Monday, May 7th, 2012
Oh goodie, marathoned another one suddenly. Could not put it down!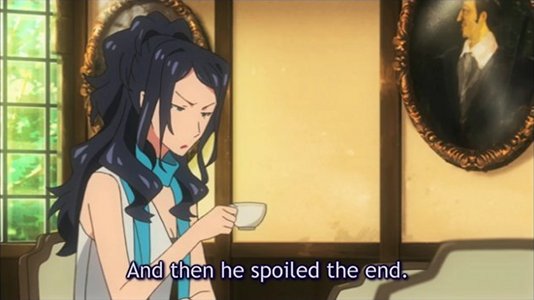 Overall, I think the anime was expertly executed. I am struggling to identify a romantic comedy equally good. I can name a few outstanding, epic love stories with a greater impact (Simon and Nia for one), but they seem not to carry the full weight of the host anime, or otherwise do not fit. And in the romantic comedy class, I come up empty.
So, good deal. However, I feel ambiguous at the messaging: the anime insists on driving home the lesson of coming forth and following the confession procedure early for the best results. This may be less problematic for teens, who have no conflicting obligations, but adults have to tread lightly here.
Liked: Yes!
Rewatch: No way, too much emotional whiplash.
BTW, the comparison list:
Gurren-Lagann, F/SN, Nodame, Moribito, Shingu etc. etc. – focus elsewhere more or less. Nodame a strong contender though.
Mahoraba – mega cute, but is really a twist on the harem theme.
ef – not bad, but split stories were poorly integrated.
Toradora – good main storyline, but flawed production: overlong with a bunch of useless filler, the build-up to the ending was not communicated well.
Chobits – comes close in strength, but CLAMP wallows in their usual creepy too much in there.
Honey and Clover – just about as strong, but nasty shit really; and the bad parts are extraneous to boot.
true tears – started ambitiously, but automatically out of contention due to drop.
Sadly, I did not complete Hatsukoi and GataKei either.
P.S. Tatsuyuki Nagai apparently directed Railgun, AnoHana, Toradora (!), Honey and Clover II (!), and Xenoglossia (wait, what). Also, had a hand in Chobits. It's like AnoNatsu was his coda. Perfect time to retire, as he cannot possibly exceed it.