Saturday, June 29th, 2013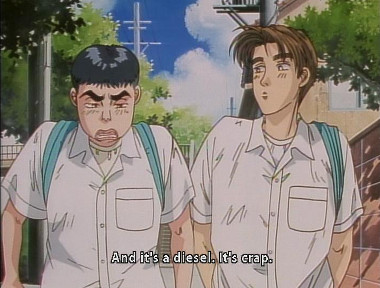 While Ana-sempai was at a lay-over between her secret jobs, we dragged her mother into watching Initial D First Stage together. Dub, of course. So, how did it go over? Pretty, well, considering. The ancient art is just adorable in its basic anime ways. They did not care for the romance much, but overall the story went down well. I suspect that despite the seemingly basic plot of main character winning street races, they might have had trouble following it. So, for example, Ryousuke quickly became "Seto Kaiba", because apparently it was too hard to remember who was called what. They caught onto the opening gambit, however. I also found the dub voices extremely difficult to distinguish, which wasn't problem for everyone else.
That aside, I caught a few funny things on rewatch. Or, strictly speaking, I didn't. Ana-sempai pointed out that Kenta is obviously a minority of some kind, likely an Okinawian. I noticed that his appearance has changed dramatically in subsequent seasons, but did not pay attention. Now the changeover seems a bit uncouth.
By the way, did anyone notice that the trackside communication was run with a UHF radio in First Stage, with a changeover to cellphones in Fourth Stage — for all teams, regardless of their means? Only one year passed for our heroes, is such a sudden change credible? The reason for it, of course, was that it happened in the real world in 10 some years between the broadcasts of First Stage and Fourth Stage.
Oh, and remember the video of Keiichi Tsuchiya that the gang watched at work? It turned out to be an instructional tape where Mr. Tsuchiya explains 6 types of drifting. You can plainly see the front brake light mounted on his car so the viewers can see when he applies brakes.