Wednesday, November 13th, 2013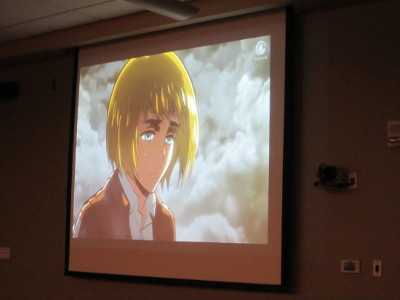 As twittered, I bought the Kindle manga at Amazon, just to support the format, and was disappointed. So, when my Fabulous Anime Club started showing Attack on Titan, I did not pay it much attention. The first few episodes clearly animated the manga to the letter, so there wasn't much of anything to it. Fortunately, the club persisted in showing it, and I watched ep.8 that way, which was exciting and interesting in the action-y way. From there, I watched it to the end in big chunks, and then watched the beginning. Made me remember that I was hooked on Naruto by watching it from ep.33.
The most noticeable thing about the Titan is the brutality of the setting, which I did not find all that necessary for the action. It was my complaint about Naruto, too, but here they cranked it up. On the other hand, pacing was just fine. Nova called it "absolutely terrible", but perhaps he was drunk.
Aside from Jinx, I also collected my information from social media, and back when Titan was broadcast, it was basically all Mikasa's six-pack all the time. Imagine my surprise when Mikasa's role turned out not particularly big. Sure, she performed some key action, but emotionally she didn't seem very important.
The overall story was deftly concluded in the season. It is going to stand alone well in this regard if no extensions are produced. However, I saw lots and lots of holes in the world. Not that I cared much, because the setting was action-supported, basically an artifical scene for kicking ass. It was quite surprising, then, to see attempts at explanation in eyecatches, which made it worse quite a bit. They were clumsy and absurd, underscoring how impossible the world was… Glie's walls were truly magical, and that was it. Much better, IMHO.
Unlike the setting and the plot, characters made sense and felt well fleshed out, despite having a very large number of them. Characters helped quite a bit to deflect attention from the stupid world and the sorry plot. They surprised me with their hidden sides, but stayed consistent. They coped with the aforementioned world and plot in their human ways. And gosh, their Stage 1 miniboss was lovely (spoilers, sorry).
Liked: Yes, surprisingly
Rewatch: Actually, possible