Saturday, January 25th, 2014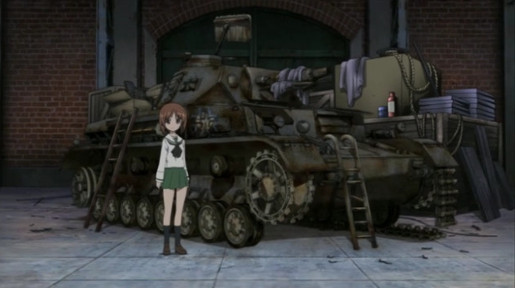 Few recent shows came with such recommendations. Incessant beat of Garupan drum was emanating from Chizumatic for months (using "masterpiece" and such). Nova called it a "very enjoyable and fun show with solid execution".
Blogs aside, there was a serious public interest:
According to Rocket News, a blog that seems to report mostly on Asian pop culture, 110,000 civilians applied to watch the exercise, held on August 25 at the foot of Mt. Fuji. Rocket News attributes some of the increased attention to "Girls und Panzer," an anime show where five ordinary-seeming schoolgirls participate in "the way of the tank," depicted in the show as a traditional modern art, and compete in tank competitions with other schools. It's all very traditional Japanese anime, except for the military aspect. Since its release last year the show has climbed to the top of Japan's media charts. Tank figurines base on the show are apparently extremely popular.
Wisdom of the crowds, man. Imagine my surprise, then, when the anime turned out to be insanely pedestrian. I'm not talking about the pacing here. The events unfolded at a lively speed. It's not about being cliche either, although, of course, the setup of a reluctant protag was not terribly innovative. Garupan's writer even gets full marks for making Miho lose once [1]. But the overall story outside of the battlefield was a farce, and the characters were cardboard cutouts. Even Hana getting disowned was a complete flop. How is that even possible?! GONZO could make a better show than this!
I'm not cancelling this outright only because it could a fodder for the "anime for rednecks" in 2014.
UPDATE: Steven rushes to explain. The characters were made in caricature on purpose, you see.
[1] Mechanically, Miho's win in the initial mock battle was fully magical and senseless in a major way, especially over Erin's team. The tradition of Yu-gi-oh style railroading continued throughout. I only award these marks for the particular zig-zag of the plot railway.