Saturday, June 27th, 2015
A cursory look at RandomC season preview (h/t Chizumatic) reveals an unusually great number of short-format series.[1] Seems like the new fad, and I'm not a fan.
It's not like they have to be bad. The PuPiPo was amazing, for example. The TeeKyuu stands alone. AIURA was an animation tour de force (a very short one). And the series with obnoxiously long name that I refer as "Danna wo Wakaranai" is the only series that I'm following in this season.
Still, the format constrains the possibilities. It's easiest to see on the example of Yama no Susume, which positively blossomed when expanded into half-size (13-minute) format for Season 2. It's going to be a big loss if the lower production costs and the smartphone-friendly size destroys the traditional series.
MORE: In case someone is not aware, the TV broadcast slot of an anime series was of paramount importance for years. The Shirobako 12 offers an interesting glimpse into it in its pre-OP sequence. It centers on a "smoke-filled room", where deals are made. Most noticed that Onoue, a powerful head of a publishing house and rights holder makes an obvious remark that he'd like to find an earlier slot for their project, "3rd Wing", in order to gain viewers and boost sales of other properties in the franchize. But before that, he also observes that Katsuragi, lead producer and owner of a production company, holds a specific slot. It does not belong to the studio, as represented by the line producer Watanabe, also present in the room. You should watch the episode 12 of Shirobako, if nothing else, but long story short — slot is a Big Deal.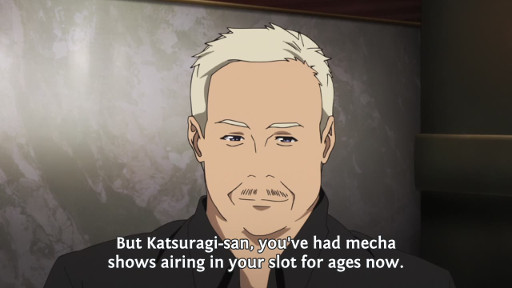 So, what is going on with the slot system in the age of shorts? I have no idea, but I imagine it to be quite an upheaval. The 2-minuters eat ad slots. The 10-minuters need oddly split slots. The 5-minuters run back-to-back. It must be a chaos. I suppose the shorts were encroaching gradually for years, with the Haruhi-chan and the like, so the broadcast industry found ways to deal with them. But it's curious to think about.
[1] At least 6: Okusama ga Seito Kaichou! (10 min), DanChigai (5 min), Miss Monochrome 2 (likely 5 min), Wakaba*Gal (unknown length), Wakako-zake (3 min), Kaijuu Sakaba Kanpai! (3 min). There could be more, not marked by RandomC. {Update: Steven also mentions Monster Musume (5 min) and Bikini Warrors (5 min).}