Friday, February 24th, 2017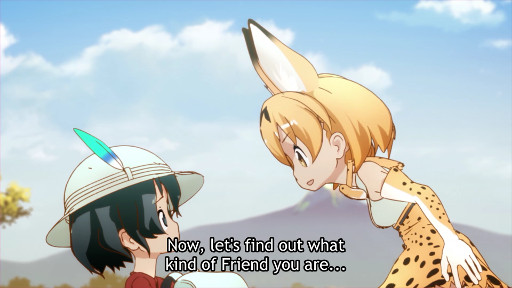 This was mentioned to me as a series to watch by a Japanese colleague acclaimed for his technical capability. What can I say… It's furries in 3D.
The "3D" in Kemono Friends is interesting enough. It's not a straight-up 3D where you create a model with physics and kinematics and drop it into Blender. It's not like Shrek. Instead, it's sort of a 3D, but mapped onto screen with anime-specific changes, such as added confining lines. The model itself makes anime concessions too. For example, the mouth is always on the side.
In part, the 3D is noticeable because production quality is rather poor. The aforementioned confining lines are inconsistent. Water is made to splash off-screen. And so on. If it were a big-budget no-excuses 3D, it could be easier to accept.
The less said about the remainder of production, the better. Okay, it's a BAMF. With little girls, of course, because duh anime. The only character other than protagonist in ep.1 is dumb like a sack of bricks — presumably because she's an animal. Well, a furry, really.
Overall, terrible. But possibly cannot-look-away terrible.
P.S. You know, if little furry girl anime like this becomes a genre, like the idol anime, I predict that we'll see a grizzly twist anime, possibly directed by Yukihiro Miyamoto, based on Island of Dr. Moreau. I give it 2 years.