Friday, May 4th, 2012
Unlike the case of Upotte, the 'sphere basically got Accel World right: it's a run of the mill shonen title. I could've blogged it right after the opener, the anime is very honest about itself. But since Evirus forewarned about "wall-to-wall exposition and unnecessarily long, tedious fight scenes" from ep.2, I waited to see that first. Afterwards, I think he overstated the case.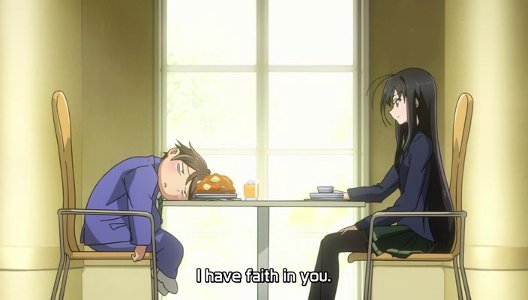 The introductory episodes are heavily dominated by the relationship of the protagonist, who I call "Mr. Porky" (Haruyuki), and "Ms. Kuro" (Kuroyukihime), a beautiful upperclassman who drags Mr. Porky in her wake towards the adventures. Since Mr. Porky is the viewpoint character, we get the unreliable narrator and the drop-in-the-pool exposition with a lot of things taken for granted or acknowledged and put aside for later. In the big picture, the purpose of Accelerated World is unknown, and in the small, Ms. Kuro intrigued everyone. Jonathan Tappan interptered her thus:
Let's face it, the beautiful and popular Kuroyukihime is unlikely to be interested in Haruyuki for his fine manly body. All she really knows about him is that he has a talent for games, which she wants to make use of. She's seductive and manipulative and she seems willing to go to great lengths to get what she wants.
I think there's more to her than that, and, unlikely it may seem, she managed to fall for Mr. Porky. The reason for that is her past trauma (that manifested in a "hideous" avatar that we do not get to see) and Porky triggeding something in her head. Of course it does not preclude her from using him. I use my wife to pick me up in the airport, too. Peter S. posted some spoiler notes on the topic, based on ep.4.
Another valuable resource is the episodic blog of the translator for UTW at "8th Sin Fansubs". Here's about Haru making an inexplicable gesture of pretend horns:
Silver Crow could be a parody of Space Runaway Ideon, an ancient anime also produced by Sunrise. It's not silver in color, but the glistering face/eye for special move is Ideon's distinctive feature, and Ideon does have horn antennas too.
I saw someone twittering hate for Mr. Porky being cowardly and weak. It is understandable, but it's a sentiment I do not share. I have a feeling that it only gives him a room to grow.
The biggest problem for me is how Accel World is going to be endless. It's based on light novels, and people familar with the source claim that there's no convenient endpoint anywhere near.