Sunday, April 29th, 2012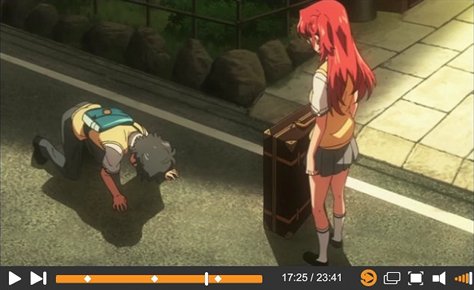 The policy of letting other bloggers to put toes in the water first works quite well for me: everything I watch pre-selected is excellent. I dropped both Onegai Sensei and Onegai Twins, so nothing is guaranteed, but Ano Natsu opens very strongly. All the right superlatives apply: gorgeous, competent, engaging. Now, the feeling is very different from the co-running Chihayafuru: watching that one is gestalt, watching this one is entertainment in the best sense.
Raw spoiling notes:
Nice intro. So, what did the camera capture? Something fixed the glasses…(unless it was a premonition – or a random dream)
Looks very pretty, in anime style. Pre-selection helps, I suppose.
Kai (Kaito Kirishima)
Kanna Tanigawa
Mio – bashful girl with long hair (it's their Mikuru Asahina)
Ichika Takatsuki — aaaaand, she's not a teacher! Hah!
Did she just spell her own name wrong?! 責月 イチカ
Remon Yamano — interestingly different uniform. Aaaaand a question! (Chiaki Kurihara may explain)
Eating carbs, yeah – blogged at Ani-nouto.
Tetsuro Ichigaki – there must always be one (Toradora's Kitamura, Natsuiro Sudanokey's Takeshi, etc.)
Ichika went into 3rd year, so there's a gap.
OMG WTF is with fishing? (something's at the end of the line?)
The basic opening hook is Man From Mars, In Disguise. Don't remember how Onegai Sensei went with that, and I dropped it too early to find out.
Love Kai's fantasies. Mine is like: before Approach drops me, I request a handoff to the Center, and then keep to 10.5, navigating serenily over mountains… Reality: I do not know the Center frequency for the area, so I putt along squacking 1200, giving a wide berth to any MOA.
Chinamini… boku no ie des!
Nice OTZ
* Unreliable ads is the worst part of Crunchyroll (audio overlay)
Magic glasses! Does this mean that Ichika can't write, or does it not?
Hilarious ep finale, now what?