Saturday, July 14th, 2012
That's right, the "begins" bracket after just one episode. It does not owe to Joshiraku being all that brilliant, but rather earnest and straightforward, with little chance of pulling a deceptive 1st episode on us (I look at you, Natsu no Arashi).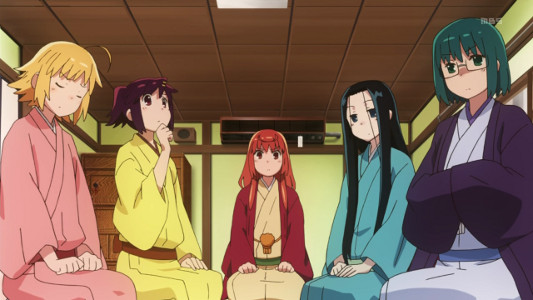 In watching exhuberance I tagged Joshiraku as series of the season. This needs an explanation (perhaps a longer one than "too weaboo"). It is not an outstanding anime, and we're not experiencing a story. If anything, it's a cross of education content of Sunred and cuteness of GA:GADC. The first episode includes a black-screen warning "the dialog was intentionally kept plain in order not to obstruct your appreciation of how cute these girls are".
Without even visiting Seiha, I imagine Aroduc laying hate on how the comedic timing is off, the innovation not there, lazy writing, or whatnot. All true, but it's completely not the point here. The point is that I knew half or more of whatever the TL post listed. Or even more than they listed. For example, remember how the 1970-vintage Momoe Sanemori yells "baka yarou!" at the sea? I thought the scene implied a specific issue with the sea, like its impervious nature. But it turned out to be a stock phrase like "Tamayaaaaa!". And when I see kids riding a Type 61 tank, I think of Bokura no Nanokan Sensou. Note that anime creators selected Type 61, and not Type 74, or Type 90, which is far more modern.
P.S. Ana-sempai's junior thesis was Rakugo. Maybe I should unearth that.
P.P.S. Has dancing chibis.
P.P.P.S. J.C. Staff redeem themselves after Kill Me Baby, which was equally unfunny, but on a useless material.
UPDATE: Drats, he outsmated me:
Kudos to the director there for keeping things flowing at a good pace for humor. […] I laughed more than a few times at least, so that puts it above most of the rest of the shows today. A lot of the better jokes were pretty lingual though, so I'm not sure how well it'll carry over for the subtitle crowd.