Sunday, April 21st, 2013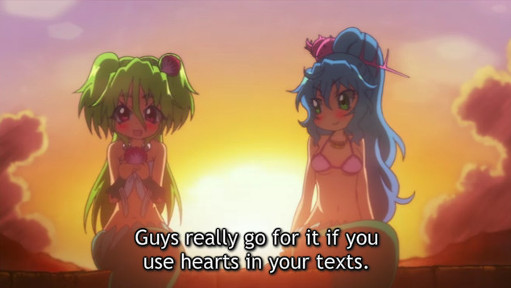 When everything else fails, a simple, kind-hearted comedy comes to the rescue. And as a mark of a good one, the 2nd episode is more solid than the 1st, with what I presume is a brilliant parody of girls and their cellphones. So, I'm looking forward to the remainder of 12-minute shorts.
Unfortunately, it appears that nobody (except Aroduc) blogs this, so there's not going to be the traditional "Bloggers on Muromi-san" type of thing, unless they start coming out of woodwork.
UPDATE: Almost forgot about Chris Beveridge, and now wish I did. Check out the writing style. I am a big fan of overlong sentences, but this is the next level. Also, he may be charles-solomoning us with the small mistakes:
Her curiosity with the cell phone has her wanting to text with him, and she sends him a ton of stuff […].
Muromi clearly was well familiar with the cellphone, just could not help herself when texting a boy.
Levia's comical from the start as she treats Takkun like the dog at Shibuya […]
Actually it's Muromi who treats him this way.