January 4th, 2008 by
Author
The mailman delivered a surprise package today: Canon Wordtank G70 that I ordered from White Rabbit two days ago.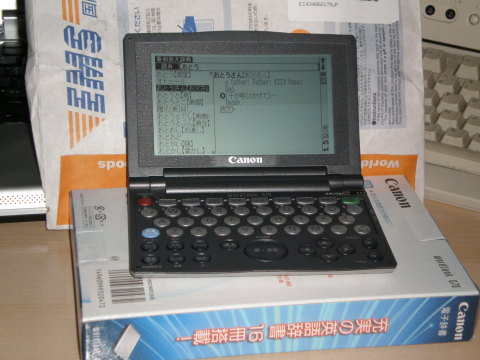 God I love capitalism.
Incidentially, White Rabbit was also cheaper than eBay sellers, to say nothing of generic stores like GoodsFromJapan. I credit J. Greely for the reference, he had gotten his DS games from them. Oh, and Amazon.co.jp sucks: their Wordtank is geographically restricted.
UPDATE: SDB has a point, a PC connection would be quite useful. In my case, actually, it was a tough choice between The Green Goddess (which was de-romanized for the 5th edition, banzai) and the Wordtank; neither option allows interaction with PC. The Wordtank won because a) it contains the Green Goddess (unlike other electronic dictionaries, most are based on Genius), b) it's chaper, c) I can take it along to my imminent trip to TAF in March.