I am aware that this blog is turning into all Hourglass all the time kind of deal, but what can I do? It's longer than I imagined and it takes all my anime time. I finally visited the walkthrough, and found that only now I'm at about the middle. One path is perhaps 50 anime episodes worth, if not 100.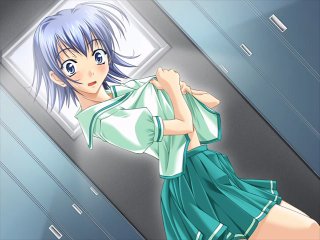 Why is Mana changing in a boys' locker room? Even if she was lost in thought, it should be hard to make a wrong turn like that, but apparently she managed it. Remember about drivers with cellphones and things they do...
The walkthrough has cute character summaries, painted for each girl's path. Full of spoilers, of course. Some were obvious, but not others. Tomo's one is especially shocking, I had no idea. Here's one for Lee Jane (nobody wants to play her, right?):
You really don't get to know her very well until August 31. But through the brief time you spend with her, you realize that you have feelings for her. As a Time Patroller, she has to avoid direct contact with citizens of the era that she day-dropped into. It's a lonely and thankless job. While watching you help Kaho avoid her untimely demise, Lee Jane develops a deep appreciation for you as a person, and starts to fall in love with you. Is your love meant to be? The answer lies in the epilogue for Lee Jane's true ending.
Riight, and I bet that not forking the plot until so late saves a lot of space on the DVD.