In the end I marathoned the remainder of the damn thing in two days, since I leave for Tokyo tomorrow and I didn't want to leave Hourglass of Summer hanging. God that was long. The amazing part, by the way, is how the OVA lasts for 2 episodes only. I have to admit I'm curious how they managed to compress it.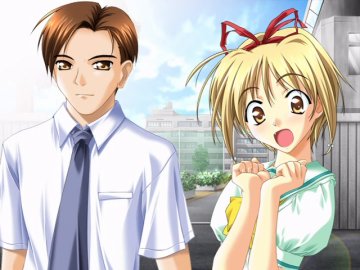 Overall, I had some good fun, but it wasn't substantial enough entertainment. For those who went there, I think the best parts were at the end, when Ai and Kaho let their jealosy to get better of them. Also, Takeshi was awesome, many times (I penciled "Takeshi is awesome" 4 times in various places). I wonder if he gets Kaho on the Ai path. That'd be cool. In any case, visual novels do not seem like anything I'm interested in, but I had to try to be sure.
Oh, and almost forgot. One thing I had in mind starting this trip was Omo's comment:
I think the ultimate achievement of ef is bringing that visual novel flair and style to the anime format. That's why we've never seen something like this before…
Sadly, I lost it. Somewhere in the beginning, when I got over the discomfort with the medium and found the right mental framework ("audiobook manga on DVD"), I thought that I was beginning to see what he meant, but now the feeling has dissipated. Should've operationalized it back then.