April 1st, 2008 by
Author
So, here goes the sacramental post.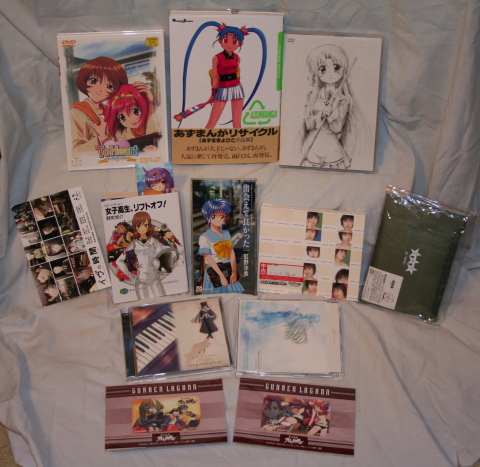 From the top left:
To Heart v.7, already blogged.
Azumanga Recycle. This issue includes the famous left-to-right Tenchi doujin, which I found impossible to find on the net raw. I already see that translation was somewhat rough.
Mahoraba v.1. I think it's safe to expect this series not to be licensed any time soon. Also, includes the soundtrack CD (score!).
An advertisement postcard for Pale Coccoon. Looks like a remake of Chobits, perhaps, only creepier and nastier. The animation seems to have a decent budget though.
Rocket Girls light novel v.1: 女子学生、リフトオフ! with a random bookmark.
A souvenir: mini-CD (I think Minidisks used to come in that packaging). I have no idea about the contents.
Megumi Hayashibara's center color.
TAF tote bag.
CDs with ef opening and soundtrack. Clearly the OP is pressed onto a separate CD in an effort to squeeze money out of fans.
The cheapest Gurren-Lagann collectibles on this side of keychains. I suspect them to be phone cards. Hello, Miyako-chan.