Mave-chan is a one-episode OVA, blurbed thus:
One day ... he is transported to another dimension where the jet planes from the anime, Yukikaze, take on the form of beautiful girls fighting a never-ending battle against the JAM.
And it was only $7.99+tax. How could I pass it?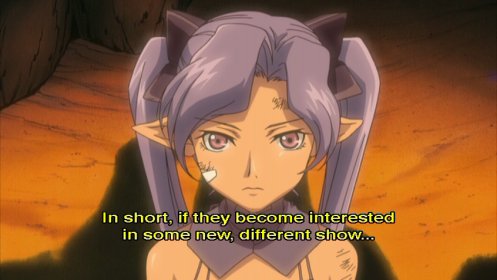 It turned out very far ranging. The main story is the attention span of the fans, but naturally they had fanservice, hikkies, in-jokes, and more. Personalities of the girls were a pleasant surprise. Keitai Shoujo attempted to introduce 5 girls in 24 minutes before, and it came out rather rushed. Here, it worked well because of lack of internal separators. Mave, despite being the title character, is rather flat... Her mind is very simple. So, very little time spent on her, and the remainder is given to Super Sylph.
I cannot help noticing the disconnect between the imaginary world being ostensibly distilled from imagination of fans, yet not looking very much like what imagination of fans would be regarding beautiful girls... And Super Sylph is aware of it (and by extension so were the creators). Maybe they hoped for an XX edition later. After all Rei stays with the girls. And yes, it's the same cop-out ending that hack Murakami used in "Hardbroiled Wonderland". Only Mave-chan was never supposed to be a storytelling masterpiece, and so it exceeded my expectations.
UPDATE: Sorry, I forgot about the entry at Karmaburn. It was, however, a preview, so no word from Evirus on what has actually transpired, e.g. fan imaginations etc.