I visited a local convention today, Otakumex. It's about 500 visitor deal, so quite small. Only one video room, one panel track, and the dealer room could've fit into my house. So, one issue with that was, if you don't like video programming, you cannot go room hopping. It's AMV Hell 4 or nothing. Attendees fill the gaps with socializing, which is helped by the convention size: more people know someone in attendance.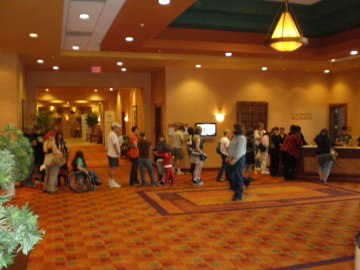 One thing was certain: the shortest registration line ever.
The linchpin of the live programming was a gentlemen called Karl, also known by his stage name Uncle Yo. I have not seen his main act, but he sat at several panels, one of which was essentially a celebration of 10 years of Cowboy Bebop. I noticed a long time ago that #anime at FreeNode has this curious bend in the group taste: on the whole the channel visitors love everything macambre, convoluted, and violent. Emo is less interesting to them, they are nerds, not hikkis. The bend is especially noticeable by the sharp contrast with #animeblogger, the population of which prefers things which are sunnier and ecchi. Karl would fit #anime perfectly. He talked approvingly of the battle royale in HiME (which made me drop the darn thing). He lauded Gungrave for its portrayal of the corruption of the good. And he's a big fan of Trigun and Outlaw Star. This is an approach to anime which is fundamentally at odds with the one of this blog, but evidently geeks trend that way.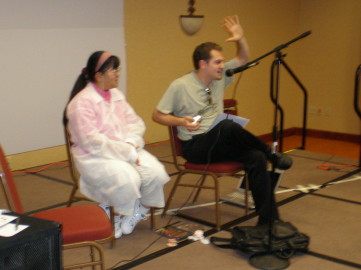 Some cosplay was strangely good, for a small con. I saw a competition level costume from XXXholic, for example. But I liked the most a Shippuuden's period Temari (yes, I'm biased, but it was damn cute). Unfortunately, I forgot to switch the flash off, and the picture came out rather poor.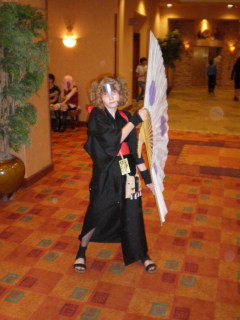 Finally, a small note. Merch was a little delayed even for R1. For example, there was essentially no Gurren-Lagann (one small figure). Not even keychains! And that was despite a couple of attendees wearing tees with core drill. I got a little Konata in a box, and a pencil board with Horo. I've not seen the anime, but it was the prettiest design.
All in all, not too bad. The con continues tomorrow.