June 26th, 2010 by
Author
Steven referred to PSP game based on Juuden-chan, Fight-ippatsu! Juuden-chan!! CC. I didn't know about it, so it's not on the list of VNs. A game by Russell, JcCC was released on May 27, 2010, just a couple of weeks after the list was made, and almost a year after TDP.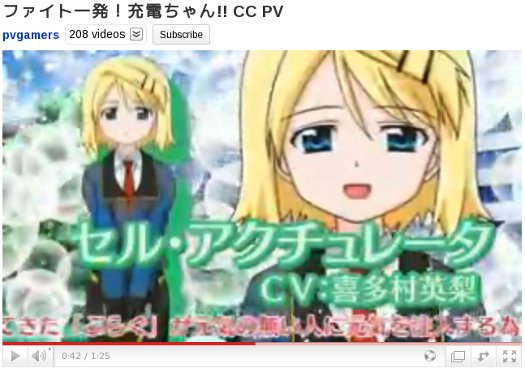 I don't know if we can conclude that success of TDP prompted a wave or anime knock-offs, but JcCC uses the same voice cast too, including the voiced protagonist. A game-original character is added, Seru Akcyureeta (Cell Actuator?), voiced by Eri Kitamura.
Juuden-chan anime belongs into "bad sexploitation" class together with Strike Witches (if we put Gatakei into "good sexploitation" class), so seeing a PSP game is a little strange. After all "PSP" means "No Sex". According to Play-Asia, the rating is "CERO B (12+)". To put it into perspective, TDP had not a single kiss (Ami peeks Ryuuji on the cheek in 100-point end), and was rated "CERO C (15+)". The trailer has a few gameplay captures in "related videos", and it's pretty much what you'd expect.
J-list sells a LE release for $80-ish that includes a Drama CD, very much out of stock everywhere else.
By the looks of it, JcCC may be something to check out, if I ever fix the power issues in my PSP. On the other hand, having spent 4 months on plugging through TDP, I am not too enthusiastic on going without a walkthrough again.