July 13th, 2010 by
Author
Or at least tentatively begins. Everything seems to go for AsoIku, but I dunno, it does not seem very exciting. At first I hoped for a romp like Sorakake, but the setup is more ordinary.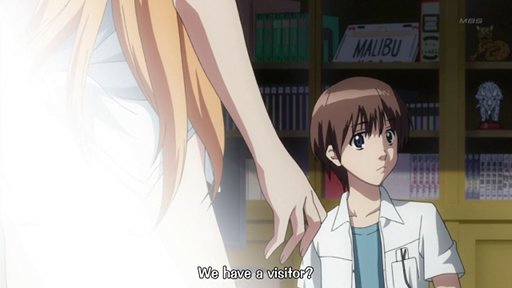 The production values were excellent, except that all girls seem to have the same face. It's rather annoying, honestly. If not for that, I'd say that AIC+ were better than AIC (SW2).
Characters did not grab me much. I had some hopes for Futaba (which is her last name, BTW), but she seems to be crazy and it's a big minus in my book. And I never liked the whole Noir genre. At the best of times, AsoIku would need to be outstanding for me to pay attention (unless Eris saves it).
SDB is more optimistic, more power to him, I guess.
P.S. The most interesting moment in ep.1 was the beautiful censorship effect created by the radiant butt of Eris. The screenshot, unfortunately, is unable to give it justice, because its motion was the key.
UPDATE: Everyone is taking a "wait and see" line on this (Ray (not Mike) on Anime Diet).