There's a Yozora figurine for preorder at J-List, and here's what Peter blurbs for it:
From the hit anime I Have Few Friends (aka Haganai) comes this superb figure of beautiful but socially inept heroine Yozora Mikazuki. The sharp-tongued Yozora is presented in her classic "arms-folded" pose, a delightfully sadistic expression of contempt on her finely-sculpted face. Her long black hair shines in the light, and the zettai ryouiki "absolute zone" between her skirt and stockings is positively delicious. Enjoy this amazing moe figure from the Goodsmile Company.
Here's a picture from GoodSmile themselves: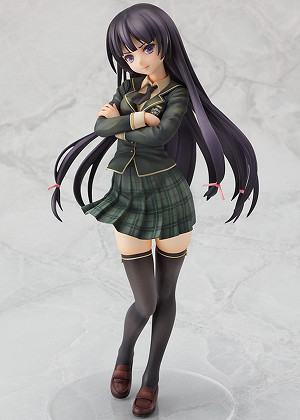 Notice anything? Like something that's missing from the description, perhaps? It's not in the blurb at GoodSmile's site either, and profile pictures are absent.
UPDATE: Never mind.