April 11th, 2012 by
Author
Nothing new happened in the series since I posted the opening bracket, except perhaps the JP's mistake became even greater in the perspective. On the other hand, I skipped the oversexualized OP every time. It was this bad.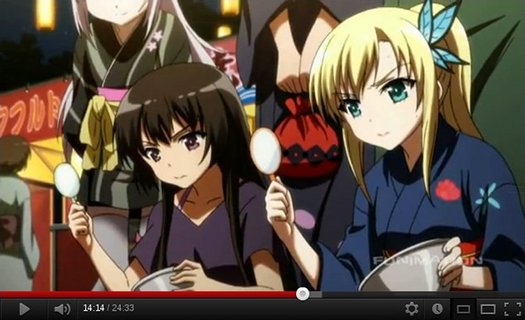 The art and animation of Haganai were astonishing, truly. The only thing that tempers my enthusiasm is a nagging feeling that I may be uprating shows which I see in postage-stamp format, and downgrading those which I experience in HD (like Idolm@ster). More research is needed.
Otherwise, there wasn't much, and I'm afraid that the game made me less interested than I would be otherwise. It was a more rewarding experience with its varying storylines. Some of them did not sit well with me, but others were quite pleasing. The anime does not permit a choice, and the one available story was poorly capped. It ended like Natsume Souseki's Botchan. The abrubt cut wasn't quite as frustrating as in Sacred Blacksmith, where a continuing plot was sacrificed. Haganai did not have a long-term storyline aside from the harem resolution, possibly. So, taken by itself, the anime was not a disaster. It's just the game offers so much more.
Not sure if I want another season or not. We know how Zero no Tsukaima went down, which is a big concern. If they make another season and do not wrap it up, I'm not going to touch it.
By the way, I pre-ordered the petanko set at CDjapan before I finished the anime. Fortunately, game and anime continuities are practically indistinguishable.
Liked: Yes
Rewatch: Probably not, except for research.
P.S. Completely forgot to mention that Haganai is another exception to the rule "FUNimation only licenses garbage", together with Oh Edo Rocket. Just 3 or 4 more good shows, and we'll get to "FUNi licenses 90% garbage". Kudos to FUNi for streaming on YouTube, too.