July 4th, 2012 by
Author
I watched a whole of 5 minutes of it, and thought that a quick pre-pre-preview of AKB0048 may be necessary in order to keep the opening bracket post to a reasonable size, because I feel like blogging the heck out of it. Maybe.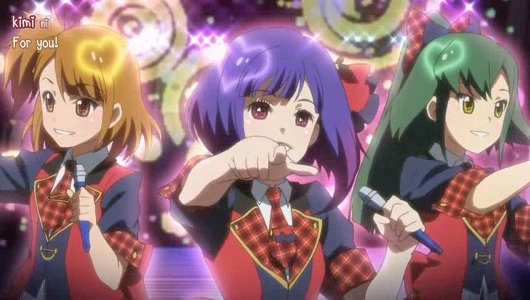 For now, the point is that I really did not like the introductory concert, with "Aitakatta, aitakatta, YES" being like biting a natto sandwich (and I'm sure someone loves that too). Nonetheless, it does nothing for my impression of the show. Why is that?
To begin with, I am not a great fan of AKB48. I bought a few tracks at Amazon, but I find their lyrics often insipid and repetitive, music somewhat bland and generic, choreography an acquired taste. This is in comparison with iM@S, that offered a lot of wonderful tracks, starting with relations in Asami Imai's rendition. The two may be indistinguishable for some, like two asian faces, but I find their quiality at different levels[1]. However, since AKB0048 was commonly identified as a sexist phenomenon, it is my duty to support it, insomuch it's the positive sexism. And being bland is not a crime.
So, I'm going to move on with AKB0048 anime while paying little attention to the tie-up. And I am not afraid to drop series.
[1] Of course it's possible that AKB48 offers something amazing that passed me by. However, once again, in Idolm@ster, I like about half of the tracks, with the rest being usually tolerable. I think the only one that I came to deleting from playlists was "Jealosy Of The Sun". With AKB0048, the proportion is significantly different across the available sample.