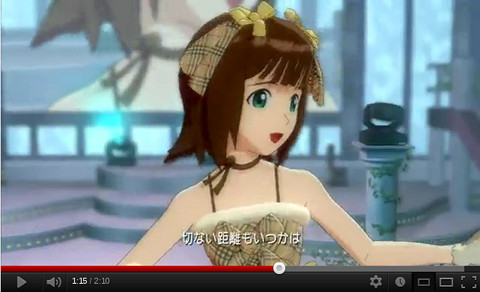 After listening to the same iDOLM@STER tracks for years, I began to parse some of the text; usually it comes as a sudden understanding while driving along. The full message often remains mysterious. For example, it appears that Agent deals with prostitution (canonically performed by Makoto, Ami and Mami to boot [the song is performed, not prostitution — Ed]).
There's also a number of amusing dialog inserts. Some are whimsical:
Ritsuko:

kokuhaku-tte dou saretai? meeru? denwa? yappari atte?
告白ってどうされたい? メール? 電話? やっぱり会って?
How would you want to get a confession? Text? Phone? Or in person?

Azusa:

sukina hito nara, nandemo ii kamo
好きな人なら何でもいいかも…
If it's my beloved, anything works

Chorus:
Meeto! (?!)
Azusa:

tsukiaetara, dou suru no? Asobu? Hanasu? Soretomo..?
つきあえたらどうするの? 遊ぶ? 話す? それとも~?
When dating, what to do? Play? Talk? Or...?

Ritsuko:

Tada, isshyoni iru dake de ii kamo!
ただ一緒にいるだけでもいいかも…
Simply being together is good

Chorus:
Internet! (?!)
(from "Sha-la-la")
Other times, it's like this:
Makoto:

ne, ne... kami-sama-tte hontou ni iru no kana?
ね、ねぇ、神様って本当にいるのかなぁ?
Listen, do you think God really exists?

Haruka:

un, atashi wa iru to omou yo
うん、わたしは居ると思うよ!
Sure, I think he does!

Makoto:

e? nande?
えっ?なんで??
You do? Why?

Haruka:

uum, nani ka wo omotte, dare ka wo shinjirareru nara, atashi wa sou shitai nah
うーん・・・何かを思って、誰かを信じられるなら、わたしはそうしたいなっ!
Oh.. I thought about it and if I can believe in someone, I want to believe that!

Makoto:

~ sou da ne. jaa, yukou ka?
・・・そうだね、じゃあ行こうか!
Right on. Well, let's go!
(from "YES")
I think an American would probably say "if I were granted a capacity to believe, then..." there, and perhaps she meant just that, but it's hard to be sure.