December 23rd, 2014 by
Author
Ani-nouto was remiss in its core mission recently: observing what everyone else is blogging, especially about the anime Author himself is not watching. Perhaps we're burning out. Still, it's hard not to notice that Shirobako is gunning for the anime of the season, if critical acclaim is the yardstick. If nothing else, this anime should be noted (pardon the pun).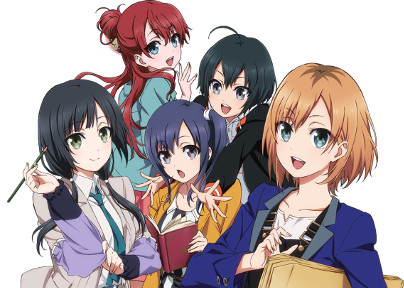 (Illustrated by the first image on Bing (h/t Quizoxy))
We already quoted Evirus, who basically wrote the definitive post on the topic, where he called Shirobako "fascinating". Omo tagged it as dramedy, apparently independently from Mike with:
Shirobako [at 07] continues its march toward becoming the definitive workplace anime dramedy, by resolving Ema's creative dilemma with believable and true advice that anyone should follow, and also highlighting the differences in the way family members act. It's come a long way since its shaky start as an overstuffed quasi-documentary.
CKS coincidentially tweeted "Shirobako episode 7: Painfully real and without any easy answers. This show has very much grown on me as it has settled down."
All in all, seems like a better show than was expected from the meta premise. Director Tsumoru Mizushima previously helmed Joshiraku and GaruPan, the former very well liked at Ani-nouto and the latter winning a mountain of praise (and helping JSDF to gain public support in a material way).