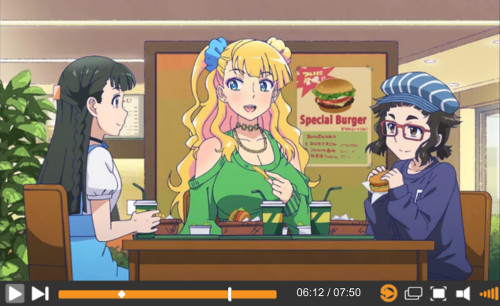 The art is so beautiful. But the titular character is what makes Galko so enjoyable. I love in particular how innocent she is. Galko has far too many other good qualities as well, bordering on Mary Sue in fact. But when comparing this to, say, Watamote, what do you rather watch? To experience? So what if it's a little bit too feel-good, a little unrealistic?
Supporting charactes are great too, and not only the two sidekicks (pictured). Take for example, bit parts such as Nikucci, the queen of meat. Some of them are even given surprisingly deep moments, like when Chara is at karaoke with his girlfriend and cannot stop thinking about Galko.
The only thing that I find disappointing is how Ojou is made to hover outside of the conversation. The anime itself plays with it very explicitly, so it is an intentional design. But is it really necessary? It's a rather minor gripe though.
I only watched 10 episodes (getting Galko for free at Crunchyroll), but I am certain that it can maintain its quality.
UPDATE: Let me guess: "titular" is either not a word, or means something different in English than a character whose name is in the title. So, Steven hints at a pun on "titties". What did I win?
UPDATE: Pixy suggests "eponymous", which does sound more suitable indeed.