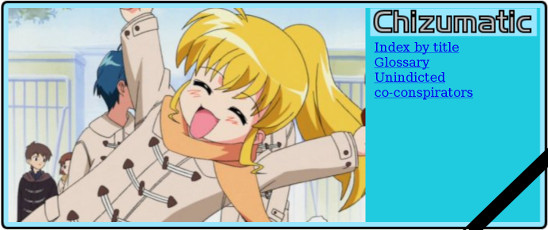 With a heavy heart I am here to report that the word has come in, by way of Steven's brother and Brickmuppet. The final update to Chizumatic was on October 14.
Named after a character in Mahoromatic, Chizumatic was one of the oldest anime blogs. Its domain predated Ani-nouto by a few months in 2006, but the blog itself started at denbeste.nu with a review of Lain in October 2004. Back then, Author was still gestating in the depths of LiveJournal, Omo's domain was "serenana.info", Jeff Lawson still had years to go.
From the beginning, Chizumatic offered a strong editorial voice for the most competent direction and the cutest girls, as well as an excellent understanding of the classical blogging, which Steven brought with him from the political arena. Explanations and WMG/TMW were another hallmark. Did you think too that the crow in Haibane Renmei represented Rakka's dog? We aren't getting such insights anymore and the animeblogging has become poorer for that.