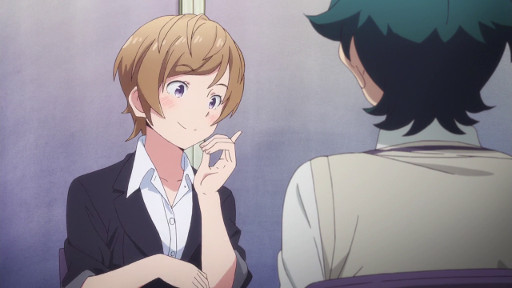 The opening episode was everything I wanted, and more. The production values are amazing. The character design is an excellent riff on the manga, animation beats Lucky*Star, attention to detail is everywheere. No obnoxious 3D! Remember the terrible fingers of iM@S? Much improved and pushed to the off-focus areas. Good job, A-1.
The production is helmed by Ryohei Tekeshita, who is not a suprstar director, but has distinguished himself well, helping with New Game and Nozaki-kun. He decided to add some foreshadowing, so we get glances at Elf Yamada (my favourite in the manga, if not LN) and Muramasa Senjuu. Elf might be just a tad too bouncy and impertinent in the anime, which is worrying. Just recall what they've done to Yukiho in Idolmaster TV. Senjuu didn't distinguish herself in her 1 second of screen time, there was no omnious aura. But with her being there, I expect the anime run through the competition arc. We may even get a proper ending.
P.S. The Japanese in this show is easy to understand, so far.
UPDATE: Draggle:
Despite the terrible subject matter, this was a pretty strong first episode. It did a good job setting things up, establishing both siblings' characters, and kept my interest.

So, yeah, I'm surprised, but I actually liked this. Somewhat looking forward to the rest.
But the show itself goes light on the ero stuff and focuses instead on Izumi and Sagiri's relationship, siblings not by blood, living under the same roof, having a shared interest, but Sagiri is too shy and traumatized by her past to truly open up. ... If they continue with this path, with a little eromanga silliness mixed in, this could be a nice little series.
Zane for Rabujoy:
... I really admired the way Sagiri's condition is portrayed. She's not slob; her room is neat and tidy, and there's no denying she's an immensely gifted artist, especially considering her age. She just ... can't leave her room ... We all process grief in different ways, she did so by shutting herself off from the world that took her mom away.
UPDATE:
Omo caught up, with the seiyuu-centered twist:
The light-hearted take on this is that, when Ibuchan was a wee little girl, did she (or her guardians, perhaps more importantly) imagine that she would be voicing a precocious light novel character (the type she's been quite adept at playing) and saying "girls like dicks" on TV, in a distant day in the future? I mean, the bigger question that some of us have already made peace with is, why do eroge seiyuu exist?
When I saw the anime rendition of Megumi, I thought that she really needed a good punch in the face. Bad memories of Iroha from SNAFU. But observe that professionals playing these characters play them regardless.