September 6th, 2010 by
Author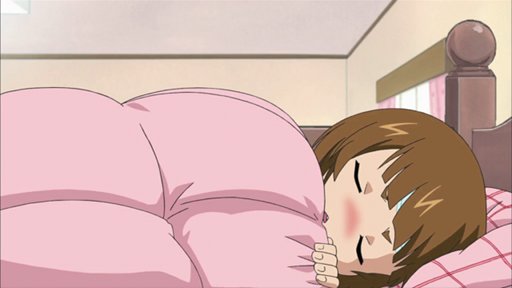 Usually the jokes in Mitsudomoe do not need precise and/or complete translation, but the problem of "chijo" really made me wish I knew Japanese slang better. I suspected from the context it's either "prostitute" or "slut", but the fansub that Kurogane watched says it's "[super] nympho". I suppose I can wait a week or two and ask what the fine professionals at Crunchyroll think. At least "ji" was easy to find in the dictionary.
Kuro also twittered: "Mitsudomoe just keeps getting funnier and funnier by the episode. I'm glad it's getting a second season now." I am not sure I agree. The execution of the jokes is getting better, and Kuro's analysis of Yabecci receding is agreeable [1]. Also, as I mentioned before, it's all right that Sugisaki is another Mitsuba [2]. But the anime seem to have a rather limited repertoire, and it is starting to bore me.
UPDATE: J. Greely explains:
From Wikipedia and elsewhere, the original intended meaning of ちじょ (痴女) was "female chikan", something that may or may not exist outside of adult videos and the sex trade. I'm inclined to say that, when used in an adult video or services ad, it means nymphomaniac, and when used as general slang, it means slut, but search results tend to be dominated by AV references…

In the Japanese spam email I get, it is always used to refer to an actress featured in a gang-bang video. Spam that's offering to hook you up with women never uses it; "lonely wives" seems to be the most common pitch right now.
In other words, the pro was not concerned with the context and just translated it in the most likely way, which is probably wrong. The word was bounced around a lot, but at one point the little admirers stated: "you are so beautiful, you must be chijo". Surely "nympho" does not fit, even if they had misconceptions about what it exactly meant.
FOLLOW-UP: I think that the medicine that helped Mitsuba was not hemorroid medicine after all. More likely, stocks of both were running low, and a clerical error occured. That is because 39.1C is a high fever, with loss of consciouseness at about 40.5 and death at 42.
[1] "Glad they've moved from the unsettling "kids using sexual innuendos on the adults" setting to the "kids doing stupid things to each other, usually with some sexual innuendo thrown in". Makes a world of difference for me."
[2] I am polemizing Aroduc here, who keeps harping on the point. Oh, and like you never used suppositories on your children. There is no danger of choking and you don't have to fight them to get it swallowed. Also, some are more efficient since they do not get cracked by acidic juice in the stomach. A win all around.