April 24th, 2012 by
Author
[…] and it's already obvious that she's going to get the nice boy in the end. So what are they going to do for the rest of the series? The "scary" gimmick is already played out (though her thrill in playing a ghost and scaring people was pretty funny). Yeah, she's going to make friends and get accepted, but if it's played out as slowly, with as many interior monologues as she had in ep1, it's going to be a slow and dull series. They better come up with something else. Maybe those two girl classmates will liven things up.
I know of two answers, one standard and one animebloger's, which I am going to explain according to SDB's "reveal, not spoil" guidance.
On the first hand, devoted fans do not mind the slowness. I remember how one of my "professional Twitter" links posted an "awwwwwwwww" on the subject (I have a separate Twitter account for professional communication, where I follow a few colleagues in areas of Linux, distributed and cloud storage). I pinged him with a question and he explained that he was reading something like Chapter 14, where Kazehaya bows down to kiss sleeping Sawako, who suddenly opens her eyes. Oh, brother, hearts aflutter.
On the other hand, Kurumi. Actually, there's more to it, like the idiot friend, Pin, and cooler friends, but Kurumi most of all. Although I am not her die-hard fan, I can see the point. Basically KnT a source that permits displacement of the main character, if a particular fan wishes, like how some claimed that DBZ is basically a story of Vegeta.
It's possible that neither of the answers suits Peter, but they do exist and work for a large number of people.
UPDATE: Oops! As it turned out, something happened to Peter's WordPress Feed, and Reader showed his old postings as new: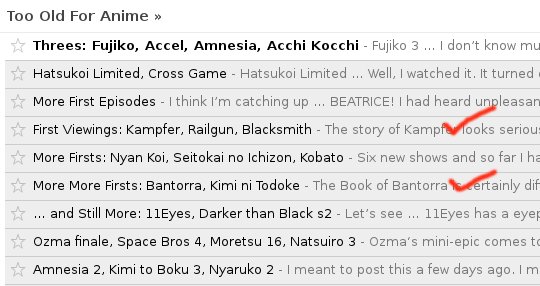 In reality, the post that I quoted above was written back in 2009, way before the full picture became known.