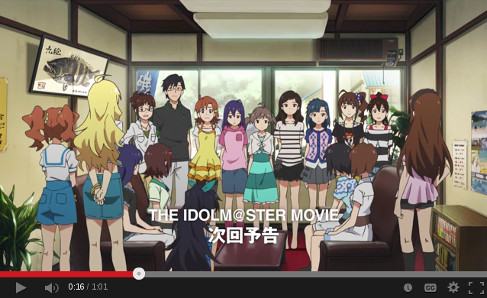 According to the PV at Youtube (h/t Mr.Kerot), the upcoming iDOLM@STER movie is going to include girls of Million Live. If I cared a little more, I would've raged badly, because so far I found no way to access said Million Live. Gree is adamant about the need for local phone.
More than that, though, there's a certain building sense of animosity from Cinderella Girls fans feeling that their favoured property is being facing an orchestrated assault against it's popularity in favour of something which isn't quite so heavily built upon fanon, particularly given how the Million Live characters have struggled to attain the same kind of ubiquitous saturation that their Cinderella Girls cousins did with considerably less of a concerted push.
There's some of that, but oddly enough I do not feel a whole lot of attachments to the girls who DiGiKerot himself summed up as "fruity". Rin, of course, is special[1], but the rest seem too random. So, I don't mind too much. My reservations, if any, are mostly about the unbound cast expansion.
[1] The mystique of Rin's success is fascinating to me, considering that she's basically the second edition of Chihaya. Her seiyuu, Ayaka Fukuhara, is not as good as Asami Imai — sorry, just calling them as I see it. So, the little bit of personal attention to Producer makes the difference.