It is the season of giving and receiving! Obviously, Merry Christmas, everyone, but focusing on the matters of animeblogging importance, here's what we get in 2014: AKB48 hits from 2006, AKB48 Heart Ereki, Angela's first CD, and Gurren-Lagann, The Movie (American version).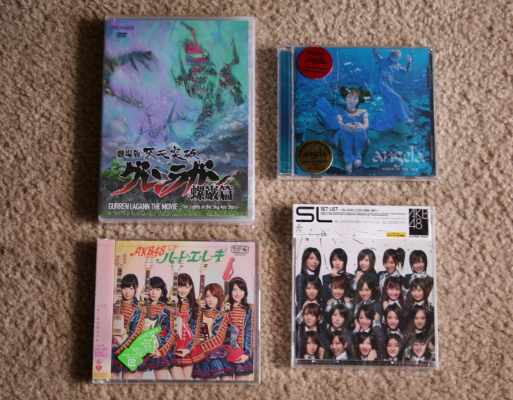 The 3DPD bent is very apparent nowadays... It's all part of the strict training regime that aims to make me distinguish 3D girls by sight. I think I could even recognize Sumire Uesaka in the steet now.
Angela's CD is anison-linked, at least. The button in front says "Debut album of J-Pop sensation, angela, with hit songs from Stellvia". Good grief. Remember times when these things were considered advancing a career in USDM? I don't think anyone would debut with an anison in 2014. The CD is published by Geneon, too.