July 8th, 2017 by
Author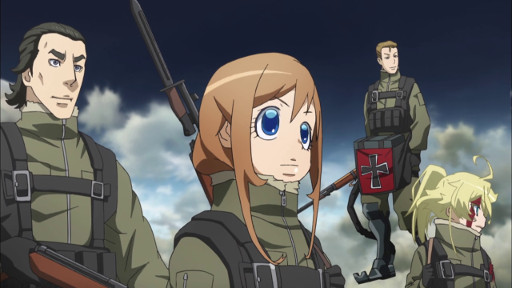 Aside from all the comedy, two things Youjo Senki left with me are 1) Germans in the Japanese mind, and 2) unfinished anime.
Generally speaking, I am allright with anime based on an unfinished source. I mean, who doesn't love Mahoraba? Although, every time it ends abrubtly like Sacred Blacksmith or Masamune's Revenge, I get annoyed. But the worst kind of unfinished anime is the one that postpones a central point because the author is idiot. Well, I'd love to know who wins in Hataraku Maou-sama, but I can accept it going either way. Unfortunately, we'll never know the mystery behind The Moderators of Kamfer, and the bitter part about it is, we are stuck because the author has not clue to begin with.
At times, the original source goes from strength to strength and far exceeds the anime that adopts its early parts, as in Jitsu wa Watashi wa. Other times it peters out as the author tries to grab onto remaining readers instead of writing a good story. Sadly it's rather common for light novels. I'm afraid it's exactly what's in store for Tanya. The anime is still watchable, even with that in mind. Yes, it's squarely in "the worst" category because the author has no plan for the conflict with Being X. But the rest of it is good enough to balance out. Just don't watch for the plot.
Once upon a time, a gentleman known as "Executive Otaku" penned a long post about the Japanese historic regard for Germans. Unfortunately, he posted it at THAT, which (as a successor of Impz) he took off AnimeBlogger only to destroy in 2013. The article has disappeared off the net completely. But his main thesis was that Germans were for Japanese everything that Japanese themselves were not, and that's why Japanese looked up to them. Tanya does a lot to explore the mythical Germany that inherited from those old perceptions. Now, it's not like that Germany had any more with the reality than Japan of Sakura Wars had with the real Japan of the period. Both are myths that survive in anime for our enjoyment.
Liked: Yes
Rewatch: Actually, possible.