Does it make sense to watch Max Heart without watching the original Pretty Cure? This question was answered in the affirmative for other series before, at least by some. And the DTO debacle helped.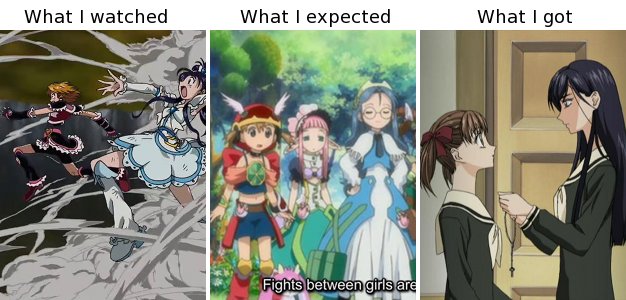 The grind was soul-crushing. If the 39 episodes of Akazukin were tough, the 47 episodes of Max Heart were gruelling. Every time I come off a series this long, I swear never do it again.
But was it worth the effort? Was it worth letting the blog flounder without the contemporary series? Living without Yamada? Without K-ON2 even? I am not really sure. The bulk of content in Max Heart is the daily trouble in girl's life. I expected some of that, but it was surprising how little the ostensible plot of saving the world played a part. Comparing it with Marimite is a bit unfair, because the issues Yumi et.al. dealt with were largely empty and meaningless, whereas Nagisa and crew grew up for real. But it will do.
BTW, did you ever watch a series so annoying that you start rooting for the bad guys? Max Heart was not one of those, but I have to admit, when the evil trio gave it all in ep.46, I thought of the sadness of sacrifice while in an anime with a railroad plot.
One last point: I really hated the "Hope" deck for some reason. Just could not stand it. The rest of henshin and action decks were mostly bearable, including the "Improved Luminos" with the xelophone add-on (Luminos' equivalent of "Hope"). I think it started when creators brought back the frames of cures looking at bracers with suprised and dumbfounded expressions.
Liked: Meh
Rewatch: No